Brazilian Butt Lift
Conveniently located to serve the areas of Santa Monica, Beverly Hills and Greater Los Angeles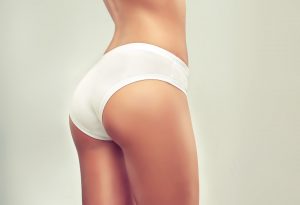 With the latest emphasis on the backside, a curvier figure and proportions, the Brazilian butt lift (Fat transfer to the butt) has become the procedure of choice. This procedure provides sculpted, voluptuous contour results that are natural to your body and last for the long-term.
Using your body's own natural sources of fat, the Brazilian butt lift adds volume to the buttocks by transferring fat away from other areas of the body such as the back, love handles, flanks or abdomen, effectively reshaping two areas of the body in a single procedure. Requiring an experienced specialist with an eye for natural beauty combined with expert technical ability, the Brazilian butt lift delivers beauty results like no other. As one of the premier body sculpting experts, Dr. Michael Zarrabi is pleased to offer his patients the Brazilian butt lift surgery.
A note from Dr. Zarrabi about the Brazilian Butt Lift
"When it comes to the Brazilian Butt Lift, I always emphasize shape oversize. Of course, we want to enhance the size of the buttocks, but a shapely butt is more beautiful than just a large rear end. How we contour the areas above and below the buttocks is also as important as how we shape the butt. It's about subtraction and addition. Fifty percent of the result comes from how and where we remove fat, the subtraction phase. Most importantly, removing fat from the upper back, bra roll, and love handles changes the proportions and will have a dramatic effect on the buttocks. The second part of the surgery is the addition of fat. Again, it is more important to add fat in all the right areas not just make the buttocks look bigger"
What is a Brazilian Butt Lift?
A Brazilian butt lift is performed in three steps and involves liposuction and fat transfer techniques.
A Brazilian butt lift is a surgical procedure that removes fat from the back, love handles, flanks and abdomen and relocates it to the butt. The result is a narrow waist and lifted, voluptuous bum. Liposuction will be used in a Brazilian bum lift to remove unwanted fat. Fat is often collected from the thighs, back, love handles, flanks and abdomen. Dr. Zarrabi's utilized Power Assisted liposuction and practices with the most advanced, proven liposuction methods to ensure quick, comfortable fat removal. The donor areas that are treated with liposuction are effectively sculpted and slimmed down. In many cases, the most profound changes for a patient's figure are achieved through the sculpting and fat reduction achieved by liposuction rather than relying solely on large volumes of fat injected into the buttocks.
Once the excess fat is suctioned out, it is purified and processed for transfer into syringes. This step takes just under an hour.
During the final step, the fat is carefully injected around the top and sides of the buttocks in a precise pattern for optimal enhancement. The increased volume created by the newly injected fat will fill out any concaves and help your bottom appear lifted and round. The fat transfer process requires no additional incisions and results in no scarring. You can achieve a natural-looking, fuller derriere and show off your new figure in a matter of weeks!
There are many "Brazilian butt lift workouts" and "buttock enhancement" supplements out there promising big results, but time and again, the Brazilian butt lift proves to be the best choice for those who want fuller backside and curvier figure.
Benefits
A Brazilian butt lift, also known as a BBL, will truly impact your overall appearance.
This procedure is ideal for providing the following benefits:
Increased roundness, fullness and volume in the buttocks
Reduction of fat from donor areas such as the thighs, flank and stomach.
Minimally-Invasive procedure, no incisions
Long-lasting results
No requirement of implants or surgery for implants
Use of one's natural stores of fat.
Am I a Candidate for a Brazilian Butt Lift?
Women who are healthy and looking for a lifted, fuller butt are ideal candidates. Patients should currently live an active, healthy lifestyle and have realistic expectations for what this surgery can accomplish. Patients with existing health conditions that hinder healing may not be suitable for a BBL.
The only way to determine the right options for you is to schedule an in-person consultation with a board-certified plastic surgeon. Whether a Brazilian butt lift is your ideal treatment will certainly be determined in your meeting with Dr. Zarrabi.
Dr. Zarrabi will take the time to learn about you and if a BBL is a good option. If not, he will create an alternative plan that still helps you achieve a lifted, toned butt. Our goal is to help our patients look and feel their best.
Consult with LA's Top-Ranked BBL Specialist
You will be instructed on how to prepare for your surgery.
Your consultation will be a personal meeting with Dr. Zarrabi and his highly-trained staff. Together, you develop the right treatment plan for your goals and your body. Drawing on his extensive experience, Dr. Zarrabi will walk you through each phase of the Brazilian butt lift and discuss every option available to you. You will be asked questions about your recent medical history and any current medications. Dr. Zarrabi's aim is for each patient to feel completely confident and comfortable with their treatment choices, focused on the excitement of the beautiful results that lay ahead!
Our office is focused on your experience and aims to provide you with a relaxed and comfortable treatment experience.
From the first phone call and beyond your recovery period, our staff will be happy to answer any questions and offer any assistance. At the end of your consultation, if a BBL is determined as the best treatment for your goals, Dr. Zarrabi's staff will plan your appointments.
Preparation
Below are a few guidelines you can follow to help you prepare for your treatment and recovery.
Designate a recovery area at home. Choose a space in your home where you can rest without being bothered. Patients often choose a bedroom but it helps if the area also has an entertainment source. You will need a couple of days to rest and relax so having a TV or books nearby will be helpful.
Pick-up necessities. Prior to your surgery, fill prescriptions and pick-up any last minute things you may need. This may include snacks, pillows, or bottled water.
Arrange rides. Because you cannot sit on your bum for the first two weeks after surgery, you will need to arrange for rides wherever you go. This includes to and from your appointment.
The morning of surgery. Take a shower and dress in comfy clothes that will not apply pressure to your treatment areas or be difficult to remove.
For your best butt lift experience, follow Dr. Zarrabi's instructions. You are welcome to call our office anytime if you have last-minute questions or concerns.
Your Brazilian Butt Lift Experience
The butt will appear lifted and filled out after treatment.
Dr. Zarrabi performs the Brazilian butt lift with general anesthesia, meaning patients will be asleep and comfortable during the liposuction phase. Before the procedure begins, the liposuction entry points will be cleaned and marked for surgery. Small incisions, which will be about 1 cm in size, will then be near the designated donor area. A thin suction device called a cannula will be inserted into the incisions. This cannula is attached to an aspirator that will remove fat tissue from the body. The cannula will be moved back-and-forth gently to dislodge fat cells. These cells will be collected and purified. The purification process takes under an hour, after which it is placed in syringes. The fat will be injected strategically around the buttocks, filling out the top and sides to make it rounded.
This procedure from start to finish will take between four to six hours.
Everyone's appointment will differ in time depending on the specifics of their treatment such as the amount of fat to be removed and relocated.
Recovery After BBL
Following treatment, it is recommended that you avoid sitting directly on your buttocks for up to six weeks. Your body will be adjusting to its new shape and staying off of it will allow it ample time for the transferred fat to settle into place. Some patients can experience soreness of the treated areas during the first few days.
A compression garment will need to be worn to help reduce swelling and bruising and you're your skin shrink to new contours.
Be sure to remain in your compression but avoid any pressure on your buttocks. Take your recovery one day at a time. Get plenty of rest and stay hydrated. Most patients are able to return to week after 7 to 10 days.
Your Results
Your results will be immediately noticeable and only get better with time. These results of your procedure will be long-lasting. For your best outcome, continue living a healthy active life!
Brazilian Butt Lift Cost
The cost of each butt lift will vary. Because of our customized approach, our patients get the best results for their body and each has a unique cost. Dr. Zarrabi will work with you to create your best outcome and will discuss the price breakdown of your surgery during your personal consultation. Call our office today at (310) 584-9990 to schedule your private meeting.
FAQs
How long does Brazilian butt lift last?
Results of a Brazilian butt lift will last years. As with all cosmetic procedures, we encourage our patients to maintain a healthy, active life. Consistent weight is your key to long-lasting results. Combined with workouts that will keep you fit and tone, you will be able to enjoy your backside and slender waist for years to come!
Is Brazilian buttock lift permanent?
A BBL will give you a round, perky booty for many years, but the results can be impacted by future weight gain and aging. Staying active and healthy will help you keep your results around for a long time.
What is bum lift surgery?
A bum lift surgery is a more casual term some patients use for buttock augmentation and refers to treatments such as the Brazilian butt lift. Liposuction is used to remove fat from your waist. The fat is purified and injected into your butt. The outcome is a slim, contoured waist and voluptuous butt. This surgery will have you showing off your results in no time!
How much is a Brazilian buttock lift?
The cost of each surgery will vary based on how much fat is to be removed and relocated. Not two treatments are the same because each individual has a unique body and cosmetic goals that will dictate the customization of the surgery. Dr. Zarrabi is more than happy to meet with you to determine if a BBL is a perfect solution for you. He will go over the cost of the surgery with you during your consultation.
What is the recovery time for Brazilian Buttlift?
Recovery timelines vary from person to person. Most patients are back to a sedentary job after two weeks. This surgery requires you to avoid sitting or putting any pressure on your backside for at least six weeks. A cushion will be used for sitting to give your backside time to settle into its new shape. Throughout your recovery, Dr. Zarrabi will oversee that everything is proceeding smoothly during follow-up appointments.