Hand Rejuvenation
Conveniently located to serve the areas of Santa Monica, Beverly Hills and Greater Los Angeles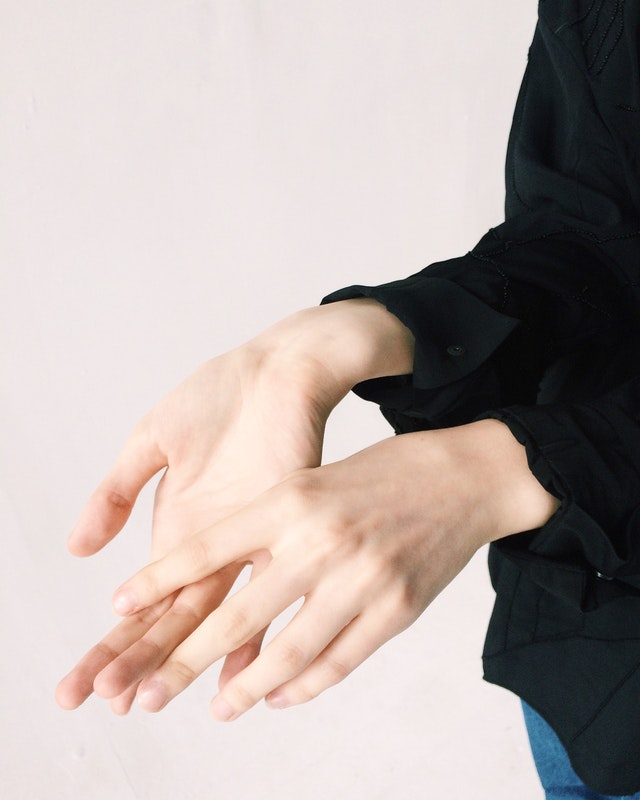 Hand rejuvenation treatment with Radiesse is a cosmetic procedure that can add tissue volume and resolve age-related imperfections in the hands. It's a filler with two main methods of action; volume replacement and collagen stimulation.(1)
Many of us start to see significant changes in our skin as we grow older. Unfortunately, these changes don't just affect our facial features. Visible tendons and raised veins on the back of the hands can be difficult to hide, and they're often accompanied by texture and tonal changes on the surface of the skin that can age their appearance. Fortunately, there are procedures designed to erase wrinkles, age spots, and plump up the skin so that our hands look smoother and younger again.
Composed of calcium hydroxyapatite (CaHA), Radiesse is specifically designed to activate new collagen production and provide a rejuvenating solution that can restore youthful softness and smoothness. We carefully inject It's a short, convenient procedure that is less invasive and more convenient than fat transfer. Additionally, as it's a long-lasting solution, patients can see their results last for up to 15 months!
Led by board-certified plastic and reconstructive surgeon Dr. Michael Zarrabi, we offer first-rate surgical and non-surgical aesthetic procedures for the face and body. At our Santa Monica and Beverly Hills locations, let us provide you with a personalized Radiesse hand rejuvenation experience. To book your individual appointment, use our online form to get in touch. You can also contact us via a quick phone call at call (310) 584-9990.
Before and After Photos
Collagen in the Skin
Collagen is a naturally-occurring protein with an important role in the skin's structural support system; the extracellular matrix. And along with its counterpart elastin, collagen production starts to wane as soon as our early twenties. Collagen is responsible for our skin's tensile strength, while elastin provides flexibility and elastic recoil.(2) These two skin components are formed by fibroblasts; special cells that have key tissue-building functions in the body. However, over time, our skin starts to lose its integrity as these processes slow down.
Research into the effects of skin aging has shown that the collagen content of the skin surface is known to decline approximately 1%/year. (3) As a result of this and other internal and external factors, we may notice a steady decline in quality and quantity of the tissue in our hands. However, we may not want to go through an overly invasive procedure to improve our appearance. Radiesse treatments allow long-lasting tissue transformations to occur with only minimal discomfort and virtually no downtime!
About Radiesse
Radiesse is a biocompatible semi-solid dermal filler that has been used for over 20 years in cosmetic procedures. It's a suspension of tiny CaHA microspheres of just 25–45 microns in diameter which, when injected into the treatment area, act as a scaffold for new tissue formation.(4) But it's not just your hands that can benefit from its effects. Radiesse has several indications for use in other areas, including:
Nasolabial Folds
Sunken Cheeks
Marionette Lines
Sunken Temples
Jawline Definition
Assessing Fatty Tissue Loss
Clinicians assess tissue volume loss with the Merz Scale.
Merz Grade/Level of Severity
0 – No fatty tissue loss
1 – Mildly sunken
2 – Moderately sunken
3 – Severe fatty tissue loss, moderate vein visibility
4 – Very severe fatty tissue loss, marked vein and tendon visibility
Radiesse is an incredibly fast-acting filler with immediately noticeable results. By allowing the body to stimulate its own collagen organically, patients can look forward to incredibly natural-looking results that will last!
Benefits of Hand Rejuvenation with Radiesse
Radiesse is an effective hand rejuvenation technique that:
Improves skin quality
Reduces tissue hollowing
Restores youthful tissue volume
Causes minimal discomfort
Involves a simple, in-office procedure
Radiesse vs. Fat Transfer
Autologous fat transfer is another way to restore lost tissue volume in the hands. After performing liposuction on an area with suitable fat to harvest, such as the abdomen of the buttocks, the same fat is carefully treated then placed into the back of the hand with a fine needle. However, for many patients, Radiesse is a more attractive choice for many patients because it's so straightforward and foregoes the need for a liposuction procedure and recovery in a different area of the body. On the contrary, it's a simple injection that takes little time to administer, and causes minimal discomfort. Patients can achieve smoother, volumized skin volume that can last up to two years!
Candidates for Radiesse
Radiesse treatments are designed for people for whom age-related volume loss has become a noticeable problem. These changes usually don't occur until our mid-30s, so most candidates are between the ages of 30 and 65. If you have begun to notice more vein and tendon visibility in the backs of your hands, or if they are showing signs of laxity and poor elasticity, hand rejuvenation could be an effective way to solve these issues.
Like most cosmetic anti-aging treatments, Radiesse may not be suitable for everyone. If you have any of the following conditions, we'll suggest alternative treatments for your needs.
Severe Allergies
Known History of Anaphylaxis
Blood Clotting Disorders
Lidocaine Hypersensitivity
Known sensitivity to Radiesse components
Please ensure any inflammation, active infection or skin condition of the hands has resolved completely well before your treatment date. Our nurse injector Sherry Sanvictores performs all injections and non-surgical procedures and will be happy to guide you through the process.
Personal Consultation
Age gracefully with a Radiesse hand rejuvenation treatment! To see if you're a suitable candidate, pay a visit to one of our two locations in Beverly Hills or Santa Monica for a personal consultation with us. We'll invite you to speak to us about your main concerns and show you how a Radiesse procedure can help you rediscover softer, fuller, more youthful-looking hands. After you've given us some basic information about your medical history, and we've examined the volume loss and skin laxity
Hand Rejuvenation Procedure
A Radiesse hand rejuvenation procedure is plain sailing for patients! It's a quick in-office procedure you'll be able to leave immediately after! Nurse Injector Sherry Sanvictores performs all injections and nonsurgical procedures at our offices. To transform older looking hands to younger looking ones, you'll feel little more than a brief "stick" as lidocaine is injected into the area to temporarily numb it. 
Recovery & Results
In the first few days after your Radiesse injections, some itching, bruising and swelling may occur. You may experience some mobility restriction in your hands in the initial few days, but this will subside over time. Radiesse works incredibly quickly, so you'll see some results immediately after your procedure is complete. You'll continue to see beneficial changes in 7-10 days as the swelling subsides. Once your final results have materialized, a more graceful-looking hand appearance is yours!
Results from Radiesse hand rejuvenation are subtle, natural, and visible for up to two years!
Cost of Hand Rejuvenation in Santa Monica
Patients from across Southern California come to Dr. Zarrabi and his team receive premium anti-aging treatments. Aided by Nurse Sanvictores, each Radiesse injection treatment plan is created with the individual in mind after thorough consultation. Therefore, the cost of each procedure will vary. Please call our Santa Monica or Beverly Hills office at (310) 584-9990 to book your one-on-one consultation with us, or complete the form on our website.
Read Dr. Zarrbi's blog for more informative details about our surgical and non-surgical skin rejuvenation services.
FAQ
Are Radiesse hand injections painful?
Radiesse treatment is generally well tolerated by patients. Many people describe it as a momentary pinch, the discomfort from which dissipates reasonably quickly. Lidocaine numbing can be included in your treatment for a more comfortable injection experience.
How fast is a hand rejuvenation procedure with Radiesse?
Radiesse hand rejuvenation is a very fast procedure. Most treatments take under 30 minutes, leaving patients free to continue with their daily routine immediately afterward.
How much Radiesse is needed for both hands?
It usually takes 2 syringes of Radiesse to treat both hands. In some cases, your provider may recommend returning to get top-up treatments in the months after your initial procedure to maintain the most aesthetic results.
References