Liposuction
Conveniently located to serve the areas of Santa Monica, Beverly Hills and Greater Los Angeles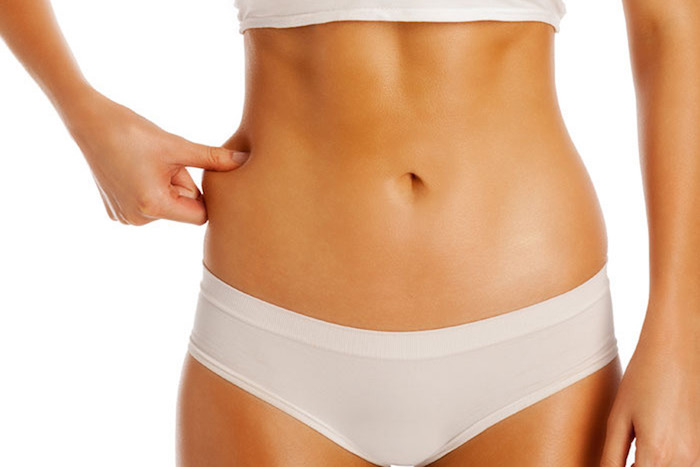 Stubborn fat that accumulates around the stomach, flanks, hips and thighs, often does not respond to exercise. Fortunately, liposuction can correct those trouble spots.
Dr. Michael Zarrabi, located in Santa Monica, California has helped patients throughout Los Angeles and the greater Southern California area achieve the sculpted physiques they desire with liposuction.
"Subcutaneous fat can develop anywhere on the body. Unfortunately, this type of fat is notoriously difficult to lose! Liposuction targets and gently eliminates this excess and unwanted fat to restore your natural contours. The goal of liposuction is not to remove every last bit of fat. We want to remove the disproportionate or excess fat so that we can create balance in your body and proportions. Just as no two patients or bodies are the same, your liposuction surgery plan will be unique to you and your personal goals."

Dr. Zarrabi
About
Liposuction is an FDA-approved fat elimination surgery. This minimally-invasive procedure can be performed on several areas of the body that have become resistant to diet and exercise. Dr. Zarrabi performs liposuction with today's most advanced techniques, which translates to beautiful results and shorter recovery times for his patients.
If you have stubborn fat that takes away from the smooth contours of your figure, liposuction is a safe, targeted way to reveal the natural beauty of your physique.
Modern liposuction is performed with a slim hollow tube known as a cannula, tumescent fluid, and a few small, well-placed incisions. Tumescent fluid is a saline solution containing lidocaine and epinephrine. Lidocaine acts as a local anesthetic, while epinephrine constricts blood vessels. As a result, you will experience minimal post-procedure bruising and swelling. The tumescent fluid has the additional benefit of allowing the cannula to pass more easily, thus making the fat easier to remove. Dr. Zarrabi then uses the cannula to aspirate and extract your subcutaneous fat gently from your body. He will sculpt the treated area into your preferred contours as he eliminates your unwanted fat. Once the fat cells are eliminated from the body, the fat does not return!
Dr. Zarrabi has years of study and experience that inform his expert knowledge of body and facial anatomy.
Dr. Zarrabi will take time to get to know you and your goals for your appearance so that he can custom-tailor your liposuction surgery to your desired aesthetic. If you have fat that you have not been able to lose from diet and exercise, liposuction will reveal your best physique and help you enjoy your ideal, healthy body contours.
Benefits
Liposuction offers several benefits including:
A smoother sculpted silhouette
Instant reduction of inches
Complete removal of fat cells
Correction of asymmetry and irregular contours of the body
Removal of unwanted bumps and bulges
Before and After Photos
Candidates
The best candidates are individuals of average weight and who already maintain a relatively healthy lifestyle. Liposuction is not a 'quick fix' solution for excess weight but is more of a body contouring procedure to enhance and sculpt the silhouette. You may be a good candidate if you:
Cannot lose excess fat around the love handles, thighs or buttocks after changing your diet and exercise habits
Have experienced extensive weight loss but cannot lose the last 5-7 pounds of stubborn fat
Want to create a smooth and sculpted silhouette
Are finished recovering from pregnancy and want to improve your appearance
Candidates for liposuction should be in good health and have a positive but realistic expectation for what liposuction can achieve. Dr. Zarrabi will walk you through the surgical process and customization options available during a private, informative liposuction consultation.

Ideal candidates for liposuction will have a healthy degree of skin laxity. Liposuction is not however intended to treat loose or excess skin on the body. If you have sagging skin after weight lose or stretched skin post-pregnancy, a tummy tuck or skin reduction surgery will address your loose skin and restore smooth, tight body contours. Liposuction is often paired with body lifting procedures to deliver the slim, flattering physique patients desire.

Consultation
Dr. Zarrabi offers a customized approach for all body contouring procedures and will explain all of the details about body reshaping during your initial consultation. He has successfully performed liposuction on patients for several years and is ready to answer any questions you may have about the procedure.

A body contouring procedure is a rewarding, often life-changing decision.
Dr. Zarrabi wants you to feel confident and well-informed before you decide to address your unwanted fat with liposuction. In order to make sure your liposuction plan is appropriate to you and your goals, Dr. Zarrabi will go over your medical history, examine your contours, and discuss your desired outcome. If he believes you will achieve your desired results from a combination of body contouring procedures, he will share his recommendation with you. He will take time to inform you of your options and address any concerns you may have.

Dr. Zarrabi is passionate about his work. He enjoys helping his patients accomplish meaningful, transformative improvement. If you are unhappy with soft, flabby deposits that refuse to budge, Dr. Zarrabi is here to help!

Techniques
Dr. Zarrabi eliminates fat and sculpts the body with tumescent fluid liposuction. Patients can also optimize their procedure and results with today's most advanced liposuction techniques. Dr. Zarrabi will discuss these techniques and the benefits they offer during your private consult.
Dr. Zarrabi offers Power-Assisted liposuction. During power-assisted liposuction, a vibrating cannula is used to gently break away the fat cells, making them easier to extract from the body.
Procedure
You will receive personalized instructions to help you prepare for your liposuction surgery.
We recommend that you wear loose-fitting clothing and have a friend or family member drive you to your appointment. Due to the after-effects of anesthesia, you will not be able to drive yourself home after your surgery.
Liposuction is a targeted, minimally-invasive procedure. You will receive general anesthesia to keep you comfortable and pain-free during your procedure. Once your body has been marked for treatment, Dr. Zarrabi will begin the liposuction process. Tumescent fluid will be injected into the site. The tumescent fluid will be given time to take full effect. He will make tiny incisions in a location where they will be well-concealed within the natural folds of the body. Using your selected liposuction technique, Dr. Zarrabi will gently break away the fat cells from the body. He will use the slim cannula to artfully extract the fat and sculpt the area into your desired shape and size. Once he has accomplished your goal look, he will close the incisions with sutures.
You will be briefly monitored in a recovery room before you are approved to begin your recovery at home.
Recovery
Thanks to his careful, expert technique, Dr. Zarrabi's patients enjoy a shorter, more comfortable recovery from liposuction. You will receive personalized recovery instructions to help you accomplish your best recovery and result.
If at any point you have questions during your recovery, please do not hesitate to contact us!
Bruising, swelling, and mild soreness can occur following liposuction. Your recovery instructions will include approved methods of controlling any post-procedure discomfort. You will receive a compression garment to wear up to eight weeks following your treatment. This garment will reduce swelling and help your body accept its new slim contours. You are encouraged to take short, frequent walks over your recovery period to promote healthy blood flow.
Most patients are able to return to work and light activity within five to seven days of their procedure! Exercise can be resumed within six to eight weeks. Dr. Zarrabi will discuss your personal recovery timeline with you.
Results
You will notice an improvement in the contour of your treated area immediately after your liposculpture surgery. Your body will continue to slim down as post-procedure swelling subsides. Results may continue to settle and improve for up to three to six months following liposuction.
The result? A slimmer, healthier-looking you! Patients who maintain an active lifestyle and healthy diet will enjoy their new figure for the long-term!
Liposuction with Dr. Zarrabi has helped thousands of patients achieve accomplish their body goals and face life at their most confident.
Contact us to learn if liposuction with Dr. Zarrabi is right for you.
FAQs
What is the difference between liposuction and tummy tuck?
Tummy tuck addresses a loose, sagging abdominal appearance. Tummy tucks correct strained abdominal muscles and remove excess skin to restore a smooth, tight tummy. Liposuction, on the other hand, does not excise skin. Liposuction targets stubborn fat deposits that develop just under the skin. Tummy tuck and liposuction are frequently paired together to help mothers and weight-loss patients get rid of their remaining fat and loose abdominal skin. 
How much does it cost to get liposuction on your stomach?
Due to the fact that liposuction is a highly customized procedure, liposuction pricing is determined on a case-by-case basis. Once you and Dr. Zarrabi have agreed on your treatment preferences, you will receive your personalized cost estimate.
Can liposuction get rid of body fat?
Liposuction is intended to address stores of subcutaneous fat that do not respond to diet and exercise. The procedure eliminates fat cells from the body to restore aesthetically-pleasing contours. It is not, however, intended to be used as a weight loss solution. Patients should be within a few pounds of their target body weight before undergoing liposuction.
Is liposuction painful?
No, liposuction with Dr. Zarrabi is not painful! You will be kept 100% comfortable during your liposuction procedure with general anesthesia. Post-procedure discomfort is easily controlled with over-the-counter medication, which Dr. Zarrabi will recommend to you.