Botox for Excess Sweating
Conveniently located to serve the areas of Santa Monica, Beverly Hills and Greater Los Angeles
Excessive sweating, also called hyperhidrosis, is an under-reported condition that causes people to change their daily routine, avoid social situations, and experience serious emotional and psychological stress or anxiety. Those with hyperhidrosis typically experience excessive sweating under the arms, or on the feet, hands, or face. Those with this condition can experience a spiraling effect of excessive sweating that causes anxiety that then triggers even more excessive sweating. To unravel this spiral at the source and curb excessive sweating, Dr. Michael Zarrabi and Sherry Sanctivores MSN, ACNP-BC offer Botox as a treatment. Although Botox is an iconic injectable that erases common signs of aging like wrinkles and fine lines, it has proven to be exceedingly beneficial in halting symptoms of hyperhidrosis. If you would like to see how a simple Botox injection can remedy your excessive sweating, please schedule a personal consultation at our Santa Monica or Beverly Hills offices. To reach our friendly front desk directly, please call (310) 584-9990.
About Hyperhidrosis
It is normal to sweat when doing something physical like exercising or basking outside in the daylight. Sweating a little is also common just before a big presentation or a blind date. But, when this sweating starts to hamper your emotional well-being, that is when the problem becomes more pathological than physiological. Occurring in almost 3% of the population,[1] hyperhidrosis is characterized by spontaneous sweating beyond the body's physiological needs in response to heat, exertion, or stress.[2] Controlled by the hypothalamus, thermoregulation is necessary to keep our body temperature cool when we are overheated. In contrast, sweat is also delegated by our limbic system to optimize grip strength in our hands and feet. However, with hyperhidrosis, excessive sweating begins to impede grip function and, for many, may result in hands, feet, and under-arms appearing drenched even when idle. As the body attempts thermoregulation, hyperhidrosis causes those with the condition to sweat profusely at the mere sign of external heat or flinch of physical exertion. There are two types of hyperhidrosis:
General Hyperhidrosis
A patient with general hyperhidrosis often experiences excessive sweating around the head and chest. Usually occurring after the age of 50, general hyperhidrosis is typically found in postmenopausal women due to uneven hormone distribution and is triggered more commonly by heat or physical exertion than by stress.[3] For some, general hyperhidrosis remedies itself and fades over time, but for many, it can linger for years to come.
Focal Hyperhidrosis
Arising in our teenage years, focal hyperhidrosis occurs on the palms, feet, and underarms.[3] Unlike general hyperhidrosis, focal hyperhidrosis is primarily exacerbated by stress and secondly by heat or exertion. Though many believe hyperhidrosis is caused by stress or anxiety, it is an inherited dysfunction of the sympathetic nervous system. While stress and anxiety do not necessarily cause hyperhidrosis, they do amplify its effects. With focal hyperhidrosis, patients experience hands, feet, and underarms that are damp or drenched no matter where they are or what they are doing.
How Botox Curbs Excessive Sweating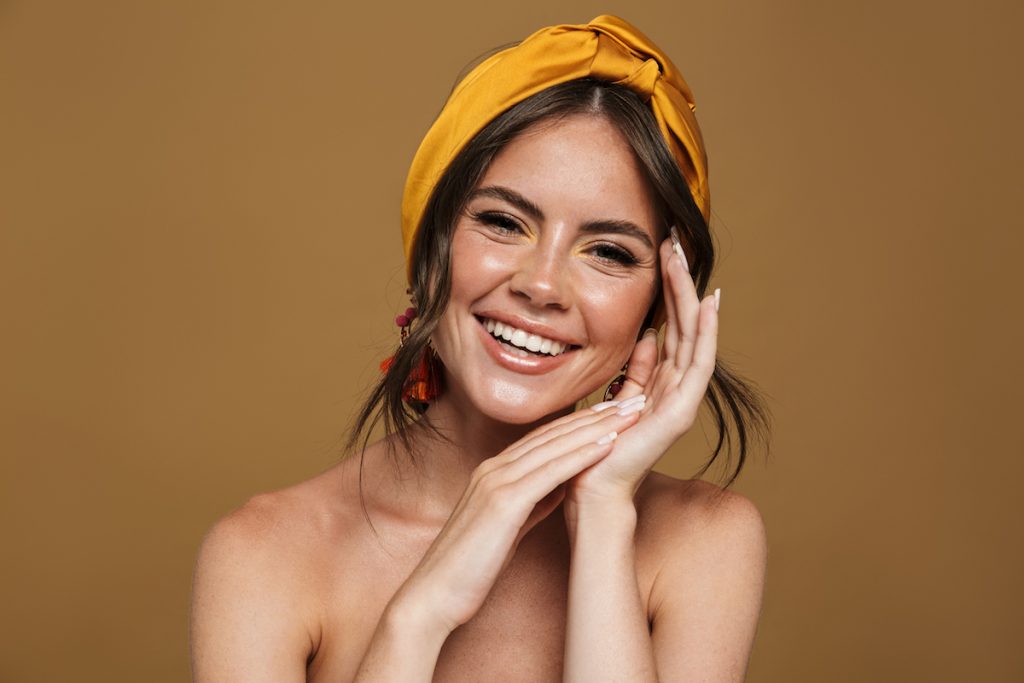 While other treatments such as topical agents that include glycopyrronium tosylate, aluminum chloride, and tannic acid have been shown to decrease signs of hyperhidrosis, they do so at the risk of causing severe skin sensitivity and discoloration.[4] When injected into the underarms, palms, or soles, Botulinum toxin type A – the active ingredient in Botox – blocks the binding and presynaptic fusion of the acetylcholine and nerve receptors, which blocks the release of acetylcholine. This process interrupts the communication between the limbic system and the brain and impedes the release of sweat in the treated areas. After around six to twenty-four months,[4] the Botulinum toxin is organically absorbed into the body with little to no side effects whatsoever.
Candidates
Hyperhidrosis can affect anyone at any age. While some patients' symptoms are more severe than others, it is important to note that if excessive sweating is disturbing your overall well-being in any way then you are an eligible candidate. If you would like to see how Botox can decrease your excessive perspiration, please schedule a personal consultation today!
Personal Consultation
Dr. Michael Zarrabi is one of the most sought-after cosmetic and reconstructive plastic surgeons in Southern California. With his expert knowledge and skills, he has helped hundreds of patients look and feel their best. Our practice is fully equipped with an accredited surgical center that is AAAASF certified and provides the highest level of safety and privacy for all patients.
Your Consultation
We will begin your consultation with a brief physical examination and a new patient intake interview. Then, we will discuss your symptoms. Dr. Zarrabi and Sherry Sanvictores understand that, for some, hyperhidrosis is a sensitive issue, so we will work to make sure you feel relaxed and comfortable in your private consultation room. Then, we will discuss your treatment options. While other physicians may prescribe topical agents, Dr. Zarrabi has seen the efficacy of Botox for hyperhidrosis. If he determines that Botox is the right course of action and you agree, then we will schedule a time and date for your treatment.
Procedure
Ms. Sanctivores will begin your procedure by reviewing your treatment plan with you and answering any last-minute questions. She will administer topical or local lidocaine into the target areas before administering the Botox injection. This will help assuage any pain or discomfort during the procedure. Next, we will inject the Botox solution into the target area's muscle: the underarms, palms, or soles of your feet. Because nearly 75% of patients with hyperhidrosis experience excessive sweating in multiple areas,[3] we will likely have to treat more than one spot on your body. Once we have addressed all of your areas of concern, you will be free to leave our care.
Recovery
Treatment with Botox may require more than one session. The treated areas will feel tender or sore after the injection, but this should subside relatively quickly. Because it requires no downtime and is a fast, simple procedure, many of our patients elect to have periodic Botox treatments to maintain a sweat-free life!
Results
Research has shown that when patients undergo Botulinum toxin treatment for hyperhidrosis they experience a 75% reduction in sweating, an increase in emotional and physical well-being, and a decrease in social limitations.[5] While Botox does not offer a permanent solution, you will be able to experience its wonderful effects for six months or more.
Other Uses of Botox
Botulinum toxin type A has been safely used in medicine since the 1970s.[6] Currently, its other more famous application is combating common signs of aging such as wrinkles and fine lines. As we age, wrinkles can pop up on the parts of the face that does the most emoting. This can be around the mouth, the nose, the brow, and the eyes. Botox, when injected into the underlying muscle, blocks the release of acetylcholine, thus inhibiting the muscle's nerve cells to communicate with the brain. When this occurs, the muscle is paralyzed and unable to contract, which in turn smooths away the overlying wrinkles and fine lines. This treatment is ideal for those who have marionette lines, vertical lip lines, crow's feet, and a prominent brow wrinkle. It is also splendid for younger patients who wish to stop signs of aging before they even take root. During your consultation, be sure to ask how Botox can give you a younger, smoother appearance.
How Much Does Botox Cost In Southern California?
The price of your Botox treatment will vary depending on the number of sessions you need to see adequate results. During your consultation, we will determine the price of your treatment plan. If you would like to learn about our financing options, please visit our financing page or call our front desk at (310) 584-9990.
References