Dermal Fillers (Juvederm, Restylane, Perlane)
Conveniently located to serve the areas of Santa Monica, Beverly Hills and Greater Los Angeles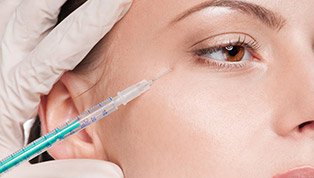 Facial injectables are minimally invasive aesthetic treatments that can refresh your looks and restore a natural-looking vibrance to your features.
Fine-Tune Your Natural Beauty
Everyone wants to look their best. But no one wants people talking about their "duck lips". Injectables can take years off a patient's appearance when wielded by expert hands. They can also harmonize facial features to unveil a patient's natural beauty. Knowing where to use injectables and which injectables to select requires a deep knowledge of human anatomy, the biochemistry of how injectables work, and an empathetic understanding of each patient's goals and desires.
Dr. Michael Zarrabi is a Diplomate of the American Board of Plastic Surgery, a major professional achievement that speaks to his stellar reputation. His handpicked nurse injector is Sherry Sanvictores, MSN, ACNP-BCN. Nurse-practitioner Sanvictores specializes in combining technical mastery with a trained eye for what contributes to timeless beauty. She loves assisting new patients who have just started on their path to achieving their ideal self and helping established patients reach their next goals. Contact Dr. Zarrabi's office and discover how injectables can help you realize your aesthetic aspirations.
About Injectables in Santa Monica
The most successful procedures are the ones no one notices. With the deft application of injectables, enhancements in beauty appear subtle and understated. We avoid the obvious overdone look. Instead, we help patients celebrate their unique flair with enhancements for their natural beauty. Injectables applied by a professional with an artistic eye result in seamless improvements that balance your face.
Before and After Photos
Sustainable Benefits
Youth is a state of mind and body. We all want to prolong that state for as long as possible. We want our outer appearance to match our inner visions of beauty. Different people have different areas they'd like to enhance or refresh. With a full range of options, injectables can provide you with a variety of benefits to help you achieve your ideal vision for yourself.
Smooth wrinkles
Prevent new wrinkles from forming due to muscle tension
Replenish youthful facial volume
Little to no downtime
Safe with very few risks
Sustainable results
Eliminate fat deposits under the chin
Subtly recontour facial profile
Ideal Candidates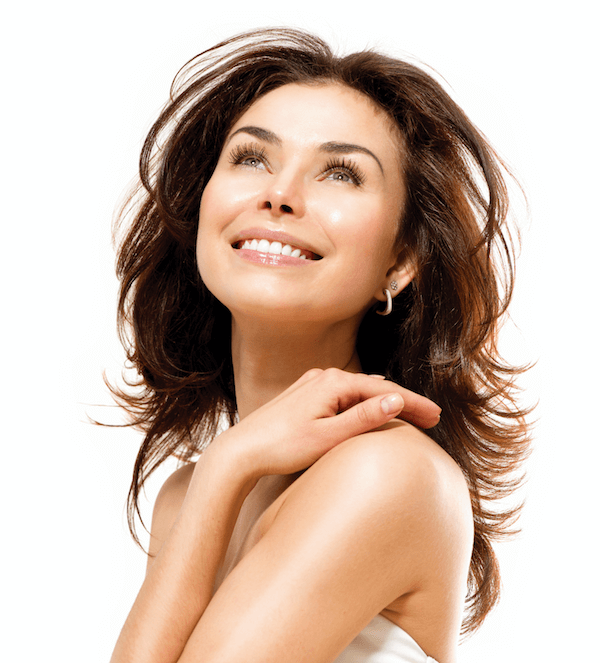 Ideal candidates for injectable treatments want to restore a youthful appearance to their facial features. They strive to achieve their personal ideals of beauty and won't be deterred by the negative side-effects of aging. Candidates should be at or near their ideal body weight before receiving injectables. Facial contours can subtly change when losing or gaining significant amounts of weight, so it's best to be near your goals.
Ideal candidates are non-smokers. Smoking carries numerous health risks that are best avoided at all times. It's also important to have realistic expectations for what injectables can and can't achieve. Injectables can't just magically transform a 65-year-old face back to your 18-year-old version. But, in skilled hands, injectables can restore a youthful appearance and reinforce a positive outlook and body image.
Your Private Consultation in Santa Monica
The best way to determine if facial implants are the right choice for you is with a private consultation. Nurse-Practitioner Sherry Sanvictores cares deeply about getting to know her patients. Only by thoroughly understanding a patient's goals and aspirations can Nurse-Practitioner Sanvictores match you with the procedures best suited to fulfill your desires.
Nurse Sanvictores focuses on the "artistry of injectables." Selected as an Allergan consultant trainer since 2008, she established herself as one of the most skilled injectors. She received her BSN at USC and her MSN in the acute care nurse practitioner program at UCLA with Sigma Theta Tau honors for high academic achievement.
During your consultation, she will examine your face, not just at rest but dynamically, when you are speaking and making facial expressions. In this way, she can understand how your facial muscles respond to movement. This way, she can best design a treatment plan based on the unique nature of your facial expressions. By taking a comprehensive approach that integrates your goals, medical history, and expectations with our knowledge of anatomy and injectables, together we can reveal the ravishing appearance you know is possible.
Reach out at (310) 584-9990 to learn more about the benefits of facial injectables. Discover for yourself if this procedure is the right match for your needs. If you prefer, virtual consultations are available.
Types of Injectables for Facial Rejuvenation
Botox
Botox, the most popular and well-known injectable, has withstood the test of time. Botox is a neuromodulator that treats facial lines and wrinkles caused by muscle tension. It works by preventing the firing of muscular nerves. By interrupting your muscle contractions, Botox and neuromodulators relax the face and smooth facial creases. This class of injectables also prevents muscle tension from creating new wrinkles during the duration of the treatment cycle (usually 4-6 months).
Juvederm/Restylane/Perlane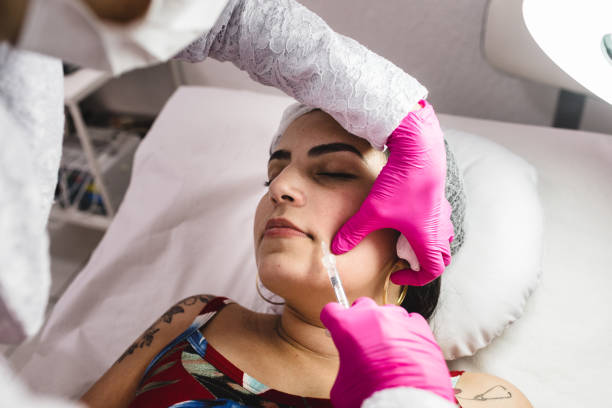 Juvederm, Restylane, and Perlane are facial fillers formulated with hyaluronic acid (HA), a naturally occurring substance in our bodies. Each HA filler uses different formulations that make them specialized for injections in different areas of the face. Hyaluronic acid works on the same basic principles. Its unique properties allow it to hydrate and moisture the skin from beneath the surface. It can smooth over fine lines and wrinkles that result from sun damage or aging and restore youthful fullness to your facial features. No more gaunt appearances. Certain formulations also plump the lips and can create the ideal upper to lower lip ratio for your face (usually either 1.6 to 1 or 1 to 1, depending on your face).
Kybella
Kybella is unique in that it's the only FDA approved injectable for dissolving fat. Currently approved for use under the chin, Kybella uses deoxycholic acid to disintegrate small quantities of fat on your neck. Sometimes called "Botox for the chin" or a "non-surgical neck lift", Kybella is the first injectable in its class that non-surgically dissolves fat deposits around the face. With so much focus placed on the face, the neck is often forgotten. You wouldn't want to place a valuable sculpture on a rotting particle board platform that's falling apart. Likewise, when considering facial rejuvenation you don't want to forget about the importance of the neck in framing your beautiful and alluring facial features.
Aftercare
Some patients may experience swelling and bruising after an injectable treatment session. You may be advised to use an ice pack or cold compress to reduce the swelling. If you experience any itching, avoid scratching the injection site. It's also wise to avoid massaging or otherwise put pressure around the injection site, as that may cause the fresh injectables to migrate, which is something we don't want.
Radiant Results
In the hands of an injector with expertise in facial rejuvenation and non-surgical contouring, injectables show proven results that can boost the self-esteem of patients and help improve their quality of life. Clinical studies have shown injectables to be a highly effective and safe method of refreshing facial appearance with high patient satisfaction.[1][2][3][4] Injectables have proven to be excellent treatments for re-volumizing the regions of the face that have lost elasticity and smoothing facial lines and wrinkles. Injectables offer patients a profound alternative or complement to surgical treatments.
Injectables vs Facial Implants
Some people see a celebrity and think, "I want to have their cheeks." A few might go further and seek out alloplastic (synthetic) facial implants. However, after years of use, facial implants are falling out of fashion. For one thing, they are inert. They don't grow with your facial features. So as you age, the implant stays the same as it was when you received the implant. This can create issues in the future when your skin, fat deposits, and muscle structure evolves with age but the implant stays the same.
Additionally, alloplastic implants come with a greater risk of infection or your body rejecting the implant. Another potential issue is bone resorption when the implant weakens the surrounding bone and the bone tissue breaks down and releases minerals into the bloodstream.[5]
With facial injectables, you can avoid all these risks while still gaining the benefit of sculpting your facial features to accentuate your natural beauty.
How Much Do Injectables Cost in Los Angeles?
Due to the highly personalized nature of injectables, a personal consultation is necessary to gather all the information required to determine the cost of a personalized treatment plan. Financing options are available to help you construct a payment plan that works best for you.
FAQ
What injectables are best for the face?
The best injectable option entirely depends on what you consider problem areas and what results you want to achieve. Botox, Juvederm and Kybella, for instance, are completely different products. Each is designed to treat different conditions in different areas of the face. The best way to determine which will work best for your situation is through a personal consultation. 
How long do injectables last? 
How long injectables last depends on the specific injectable and how that interacts with your unique biochemistry. The range can vary from 3 months to 2+ years depending on your individual factors.
References