Dermal Fillers (Juvederm, Restylane, Perlane)
Conveniently located to serve the areas of Santa Monica, Beverly Hills and Greater Los Angeles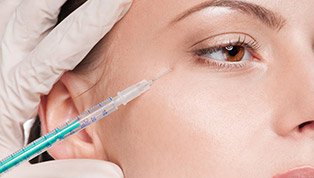 If you have developed wrinkles, fine lines and deep facial folds as a result of the aging process, injectable fillers such as Juvederm, Restylane, or Perlane can help to create a more youthful look. Juvederm, Restylane, and Perlane are the two of the leading dermal fillers available and are an increasingly popular choice for men and women who want to reverse the signs of aging. Dermal fillers works by plumping up the skin so that fine lines and wrinkles are reduced, and in some cases, eliminated.
Dr. Zarrabi has been injecting dermal fillers for several years, and has worked on hundreds of patients who want to reverse the signs of aging and restore their youthful looks.
He takes a customized approach when performing all non-surgical cosmetic treatments, so that results look natural and are aesthetically pleasing.
How Dermal Fillers Work
Juvederm, Restylane and Perlane are temporary fillers that can provide instant results. They have been proven safe and effective for treating wrinkles, fine lines and facial folds. These dermal fillers are made with non-animal-based hyaluronic acid; since hyaluronic acid already exists in the human body, the filler is readily adopted under the skin and helps to create a natural, smooth and youthful look.
Dermal fillers made of hyaluronic acid, are gel-based filler that can be injected directly under the skin for immediate results. The gel creates a very natural, smooth appearance – so much so, that people rarely know you have had a cosmetic treatment at all.
Dermal fillers help to hydrate your skin while increasing its volume and density; this also helps create a more natural and contoured appearance, and regular treatments can help you maintain a youthful and attractive look.
Key Benefits of Dermal Fillers
Dermal Fillers like Juvederm, Restylane, and Perlane can be administered to several facial compartments and areas of the face including:
Filling out hollowed cheekbones
Plumping up lines around the eyes (crows feet)
Reducing furrows and grooves along the forehead
Eliminating or reducing grooves and lines between the eyes
Plumping up the lips
Filling out creases around the mouth (nasolabial folds)
Smoothing out the skin for a more contoured appearance
Dermal fillers may be used in conjunction with other anti aging treatments such as Botox and chemical peels to achieve a more youthful and attractive appearance. It is versatile, safe and effective dermal filler that typically provides up to 6 months to a year of results.
Dr. Zarrabi offers several dermal fillers at his exclusive plastic surgery office in Santa Monica. Contact Dr. Zarrabi to find out if you are a good candidate for this innovative anti aging cosmetic procedure, and what type of dermal filler will be the best match for your needs.