Botox Injections for Wrinkle Control
Conveniently located to serve the areas of Santa Monica, Beverly Hills and Greater Los Angeles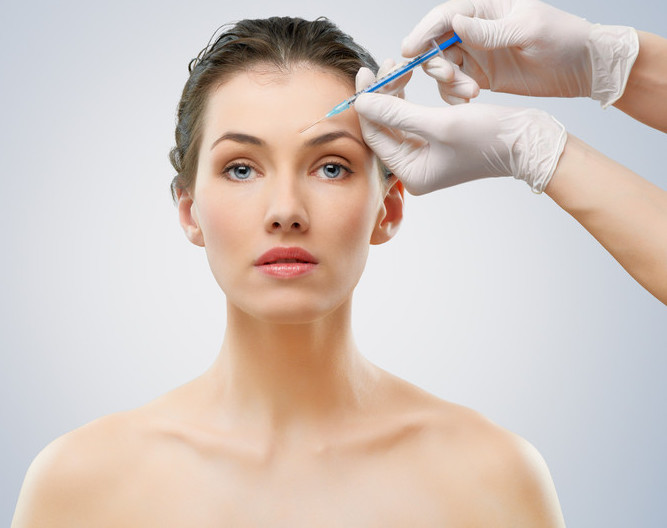 Botox is an injection that reduces the appearance of dynamic wrinkles and fine lines by strategically preventing muscle contractions. [1] When these muscles remain relaxed, the integrity of the overlying skin is maintained and unwanted creases are prevented. Botox has been a wildly popular solution to counteract the most common signs of aging since 2002, and it's now a popular way for younger patients interested in "prejuvenation!" Because of these consistent results, this minimally-invasive cosmetic has been one of the most widely utilized anti-aging treatments available. Nurse Injector Sherry Sanvictores MSN, ACNP-BC of Zarrabi Plastic Surgery has years of experience and extensive anatomical knowledge and training. In her expert care, residents in the greater Los Angeles area are able to benefit from this highly effective and versatile solution and enjoy natural-looking, revitalized results. See what this versatile cosmetic can do for you by scheduling an informative consultation at our Beverly Hills or Santa Monica offices. You can also call us at (310) 584-9990!
Before and After Photos
The Power of Botox
The key ingredient of Botox, Botulinum toxin type A, has been utilized for medical purposes since 1989 and has provided excellent outcomes for patients looking to treat medical and aesthetic conditions. [1] Repeated clinical studies have solidified Botox's standing as a safe and effective treatment. In addition, countless peer-reviewed medical articles published over the years have further validated Botox treatments. But for millions of patients worldwide, Botox's results speak for themselves!
How Botox Works
As we get older, collagen production in our skin decreases, resulting in the formation of wrinkles. This can be concerning for those who wish to preserve their youthful look, and experience unwanted wrinkles and creasing when making facial expressions. Botox to the rescue! The active ingredient of Botox is Botulinum toxin A, a protein produced by a specially formulated strain of bacteria. When injected intramuscularly, it blocks the chemical message between the brain and muscle. [1] This keeps muscles from fully contracting, and those pesky "dynamic wrinkles" from forming. Patients enjoy a smoother complexion and a calm, composed appearance without any of the wrinkles that signal stress. Plus, by preventing those wrinkles from forming, patients can delay some of the most common lines from setting in as the years pass.
Bonafide Botox Benefits
Botox has a long and proven track record of providing millions of patients with a refreshed, youthful look. This quick injection is a versatile cosmetic.
What Can Botox Do?
Smooth away wrinkles around the mouth, nose, eyes, and brow
Preserve your youthful appearance by preventing future development of lines and wrinkles
Define other facial characteristics such as the chin and jawline [2]
Increase the appearance of the upper lip with a Botox "lip flip"
Relax the muscles around the mouth that lead to a "gummy" smile
A quick, straightforward procedure without downtime
Botox not only diminishes wrinkles it can also provide relief from the following symptoms:
Muscles spasms
Bruxism and excessive jaw clenching
Chronic migraines
Ideal Candidates
The benefits are undeniable! Botox effectively addresses signs of aging. Botox is for healthy individuals who aren't pregnant or breastfeeding. If you're currently experiencing an active acne or viral skin outbreak, reschedule until your skin clears up. Botox is not recommended for patients with certain neuromuscular diseases or conditions. Despite this, Botox can be a life-changing treatment for other candidates looking to treat non-aesthetic ailments.
Have your concerns, questions, and aesthetic goals answered at an informative meeting at our offices. Or kindly call (310) 584-9990 to reach our offices. In the meantime, get a glimpse of the results by scrolling through our Instagram.
About Your Consultation
Your consultation starts with a brief examination as a part of the new patient intake process. During this time, please feel free to talk about your ideal results. Whether it's wrinkles, fine lines, or other concerns, we'll pay close attention to help us understand how we can help. Once we have a comprehensive view of your goals, we will determine whether Botox or another cosmetic treatment will best achieve them. If we decide Botox is suitable for you, we will schedule your treatment date. In the meantime, please follow the pre-treatment instructions we give to you. This will ensure you have the best experience during your care.
Easy Preparation
Botox patients can look forward to an easy, non-surgical solution that requires only a few instructions to be followed. To get yourself ready for treatment, you will be asked to:
Hold off taking aspirin, ibuprofen, or other blood-thinning medications as directed
Avoid alcohol the day before and after treatment
Fast Procedure
Before you receive your Botox treatment, we'll apply a topical anesthetic to numb the treatment area(s). Once you're comfortable, our expert Nurse Injector Sherry Sanvictores will administer a series of injections into the muscles along the targeted area. Botox will then gradually inhibit the muscle contractions that cause wrinkles.
The Days After Botox Treatment
After your Botox procedure, you may feel some discomfort, tingling, and swelling. [3] Don't worry—this is temporary and should subside in a few days. Even though it's tempting, please do not touch the treated areas.
Unmistakable Results
Most patients see results within two days and final results within two weeks. When that time comes, patients will have a smoother, younger-looking complexion. Most Botox treatments last about four months. [4] Many patients who decide to incorporate Botox into their skincare routine schedule "touch-up" sessions every few months to maintain their results.
Corresponding & Complementary Procedures
Zarrabi Plastic Surgery offers plenty of options for patients looking to achieve the best version of themselves. We will discuss your pathway to achieving your desired aesthetic at your consultation. If you're interested in Botox, these non-surgical and surgical alternatives may also benefit you. They include:
Kybella
Kybella is an injectable treatment that improves the appearance of the chin and neck. It contains deoxycholic acid, a natural enzyme that dissolves fat cells to eliminate "submental fullness" or a double chin. After a course of Kybella injections, patients can enjoy better jawline definition.
Chemical Peels
A chemical peel is for patients who are looking for a rejuvenating way to resurface their skin. Professional grade peels are a great way to reveal youthful, radiant skin, and our practice offers a range of effective peels to address common skin concerns. These treatments exfoliate and renew, and are designed to address signs of sun exposure, aging skin, uneven pigmentation, and other minor skin imperfections.
Facelift
A facelift is an anti-aging surgical solution that provides long-lasting results. Patients who are looking for a more effective and permanent solution to signs of aging like sagging skin, deep creases, and volume loss may benefit from a facelift. This procedure contributes to a younger-looking appearance by removing excess skin and repositioning underlying tissues. Incisions are carefully concealed around the ears and above the hairline.
Cost
The cost of your Botox treatment will depend on the area being treated and the amount of cosmetic, or units, used during the treatment. Pricing concerns will be addressed at your consultation. Zarrabi Plastic Surgery is pleased to provide financial assistance to make the Botox treatment more accessible.
FAQ
Is Botox safe?
Botox is a safe, FDA-approved treatment for treating signs of aging. Its job is to temporarily block signals that cause muscle contractions. 
Are Botox results permanent?
On average, results usually last up to four months. The ultimate duration of this cosmetic will depend on the patient, the area treated, and the amount of cosmetic used. Patients are recommended to get subsequent sessions to extend the rewarding effects of Botox. 
Do Botox injections hurt?
Botox is a non-surgical cosmetic injection that is administered in the muscles of the targeted area using an extremely fine needle. A topical anesthetic is applied to the skin beforehand to ensure the treatment is as comfortable as possible.
How long is a Botox treatment?
Most patients are happy that they can fit the treatment into their lunch break or busy schedule. Typically, a session will last 10-15 minutes.
References