Cutera Excel V Laser
Conveniently located to serve the areas of Santa Monica, Beverly Hills and Greater Los Angeles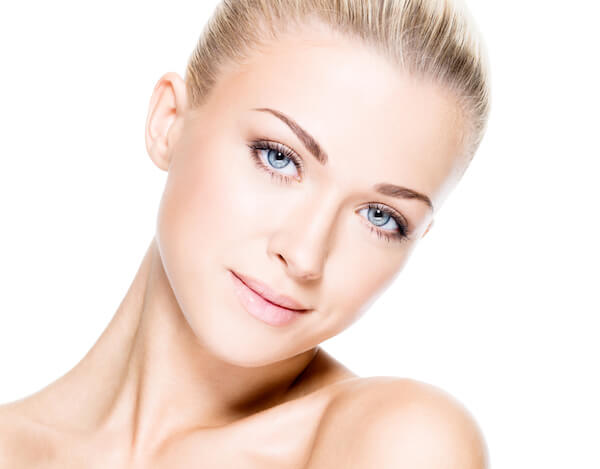 The Excel V Laser is an effective solution for scars, wrinkles, dark spots, rosacea, spider veins, and many other skin conditions and ailments. It's approved by the FDA to treat over twenty skin conditions and nearly all skin types. [1] This safe, powerful treatment uses light energies at two different wavelengths, which is what makes this innovative technology so versatile. Dr. Michael Zarrabi is dedicated to offering the best treatments available, and the Excel V allows him to offer the benefits of laser skin therapy to all of his patients. With Excel V, Dr. Zarrabi and Sherry Sanvictores MSN, ACNP-BC bring their clients real, lasting results for all different types of skin conditions and skin types. If you're interested in learning more about how the Excel V Laser can improve your complexion o please feel free to schedule a personal consultation with Dr. Zarrabi or Sherry and give us a call at (310) 584-9990.
About
The Excel V Laser technology has many applications, but they are all made possible by the power of light. Laser skin treatments use concentrated light waves to create a thermal effect. The heat from the laser targets and destroys unwanted tissue – a process known as photothermolysis. Because darker spots conduct heat more readily, the laser is able to precisely target dark spots and other pigment irregularities in the skin. Once the pigmented elements of the skin are destroyed, the skin is able to regenerate normal, evenly colored, skin cells.
For patients that struggle with rosacea, laser therapy with the Excel V can be a way to eliminate the redness and achieve smoother, healthier skin. Regular treatments with this gentle laser may prove a long awaited solution for those struggling to manage this difficult skin condition.
This laser is also able to address unwanted capillaries and spider veins, as well as larger veins located deeper in the skin. However in this case, it is the dark-colored hemoglobin in the blood vessels that receives the thermal effect, and as a result, the unwanted blood vessels coagulate, blood is diverted to other healthy vessels, and the now defunct vein is naturally reabsorbed by the body.
The Excel V is able to treat such a wide range of conditions because it is customizable. This laser features two different wavelengths of light energy, one that can be used to pinpoint skin irregularities at the superficial layer, and another that can treat conditions originating deeper in the dermis.
Before & After Photos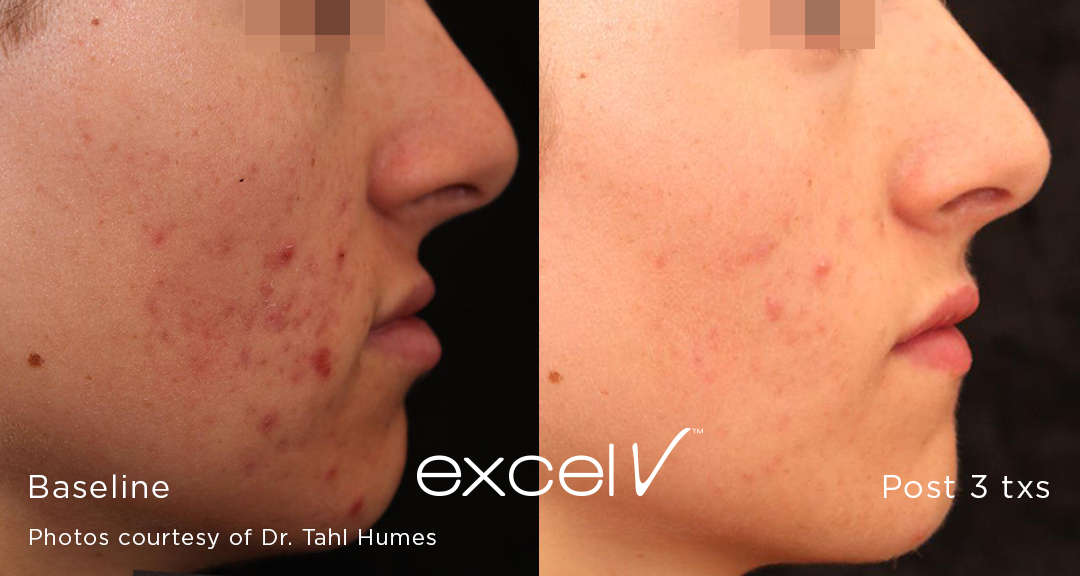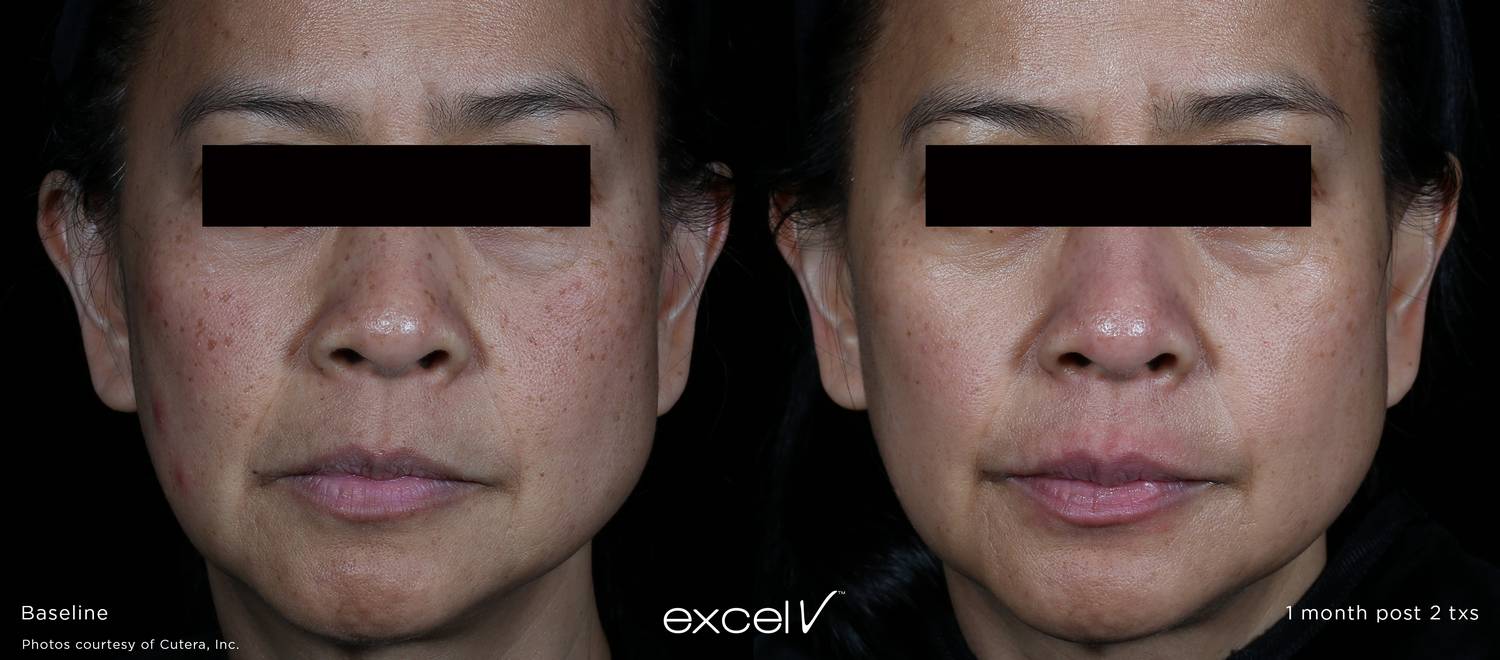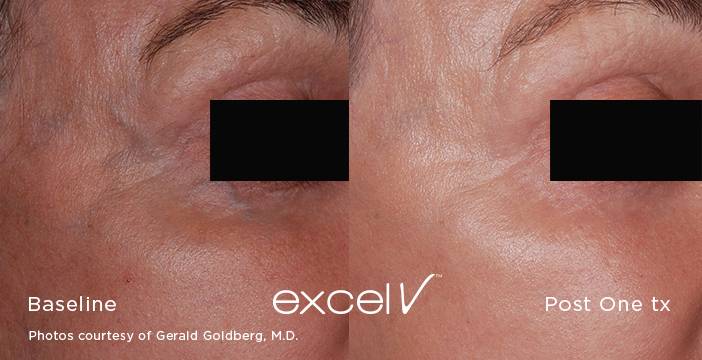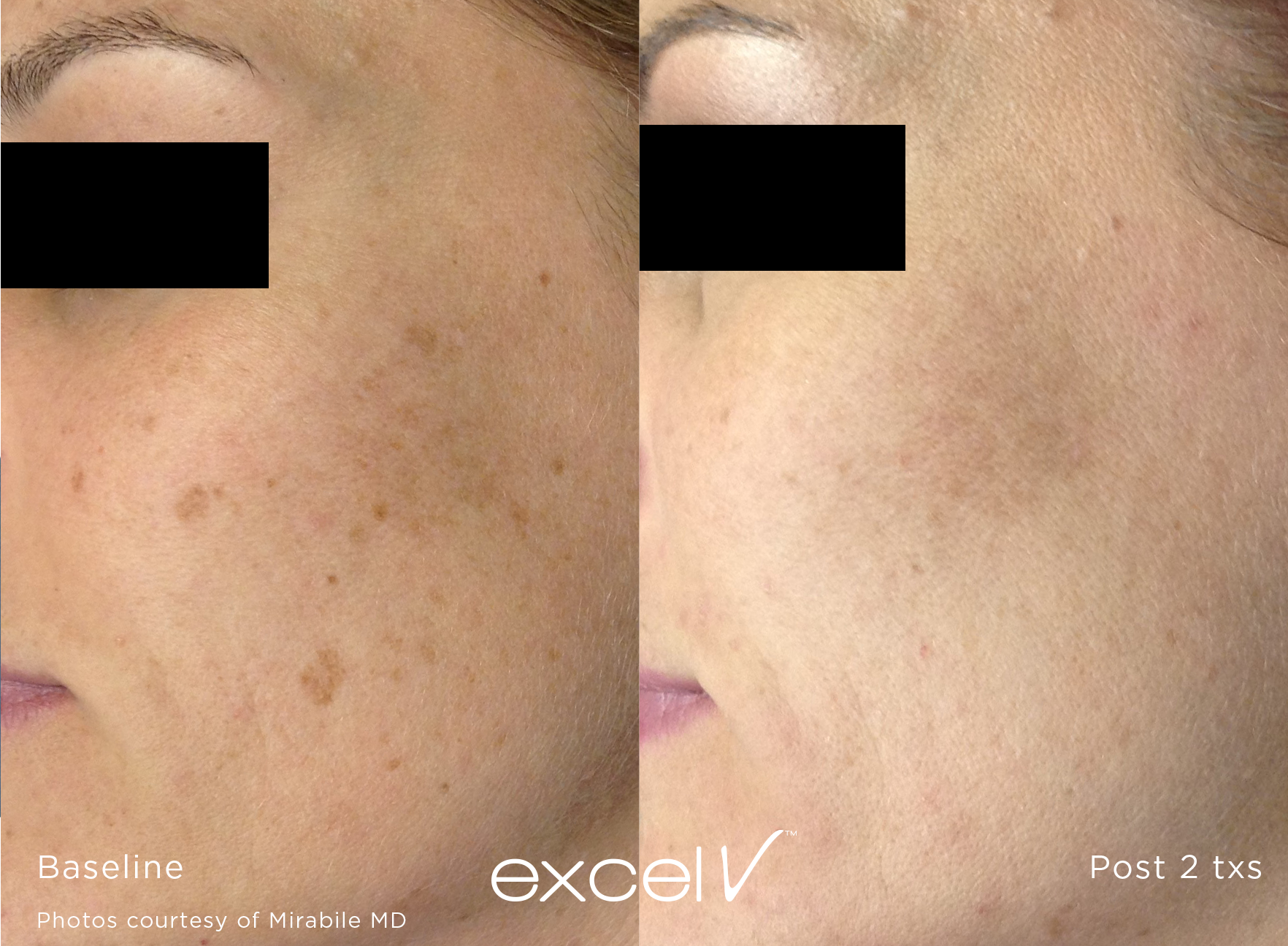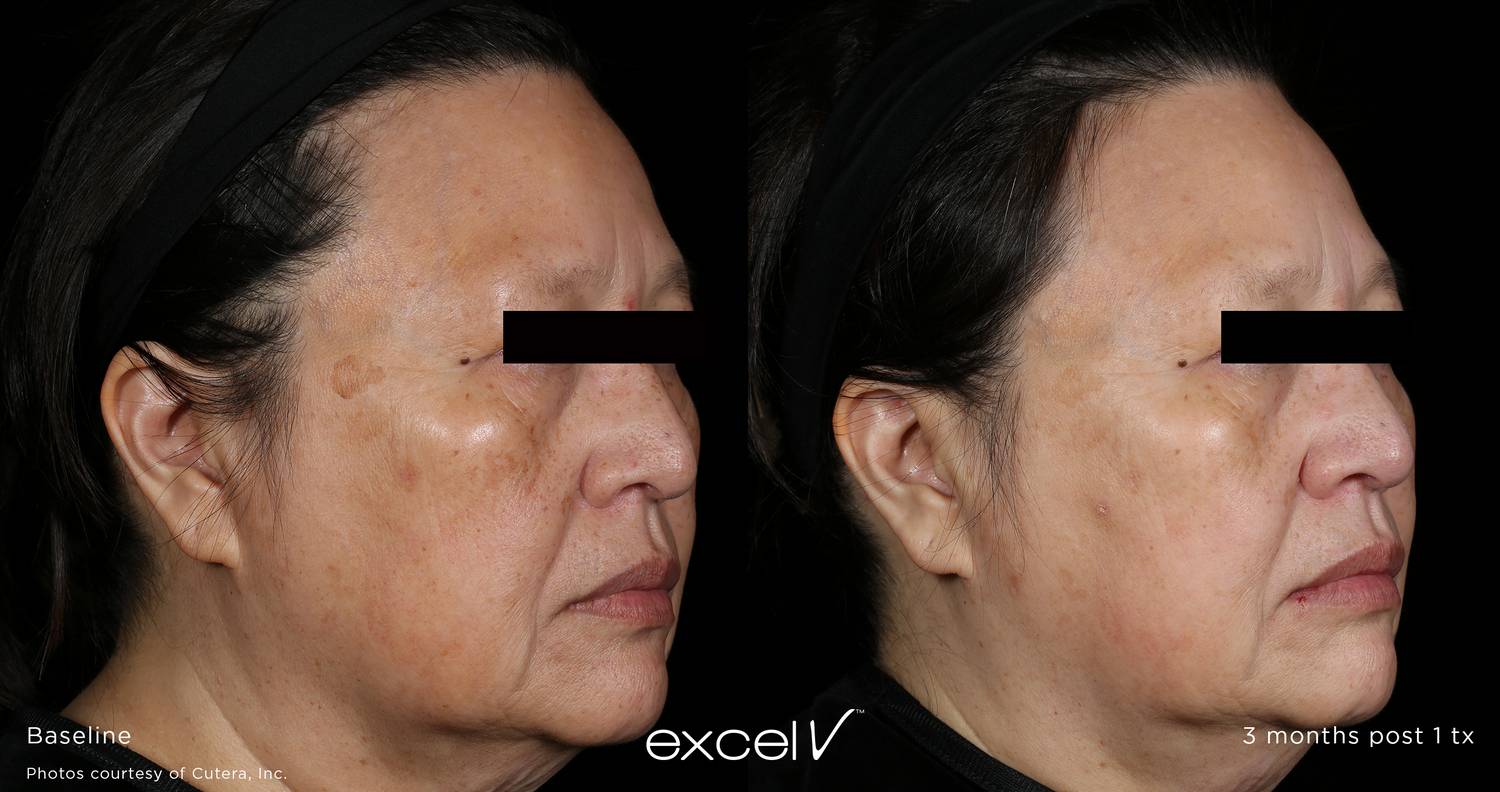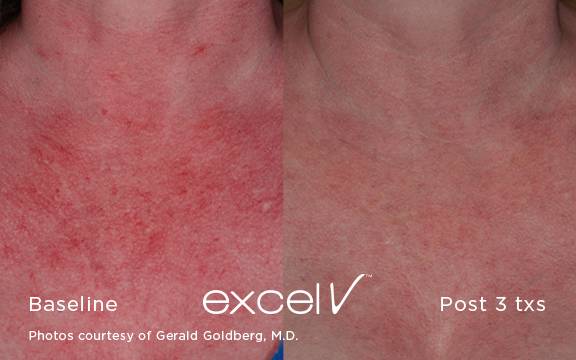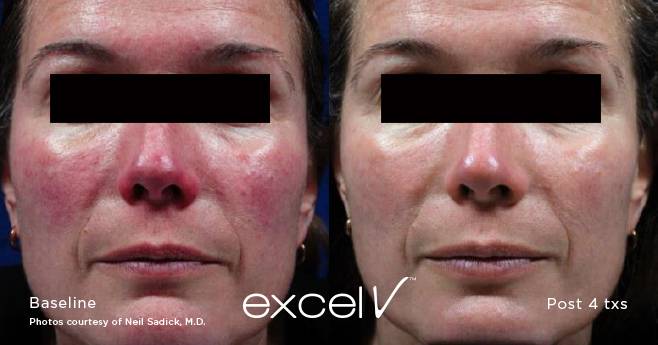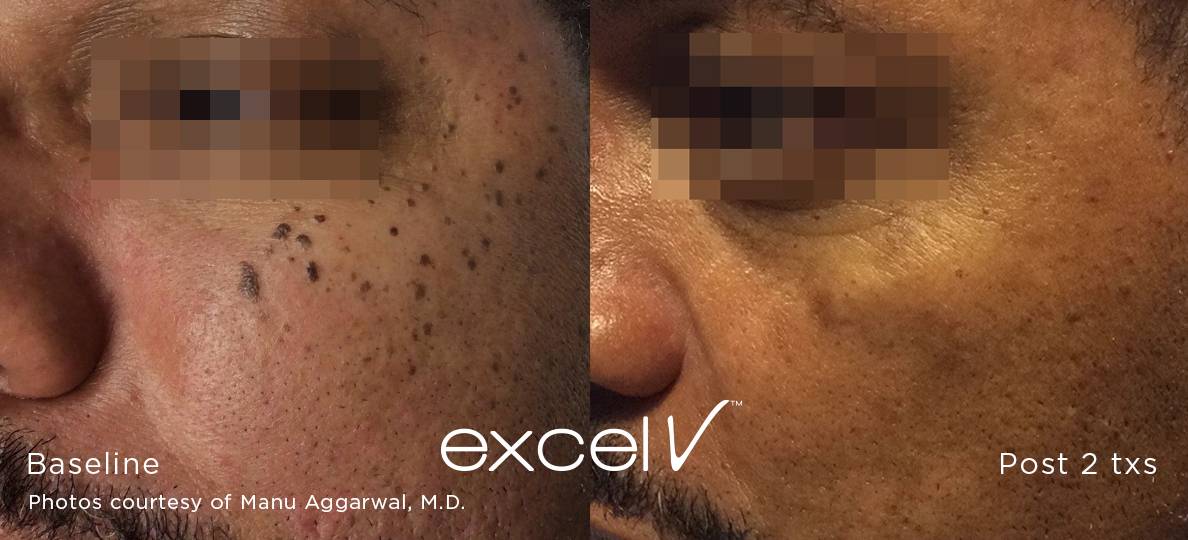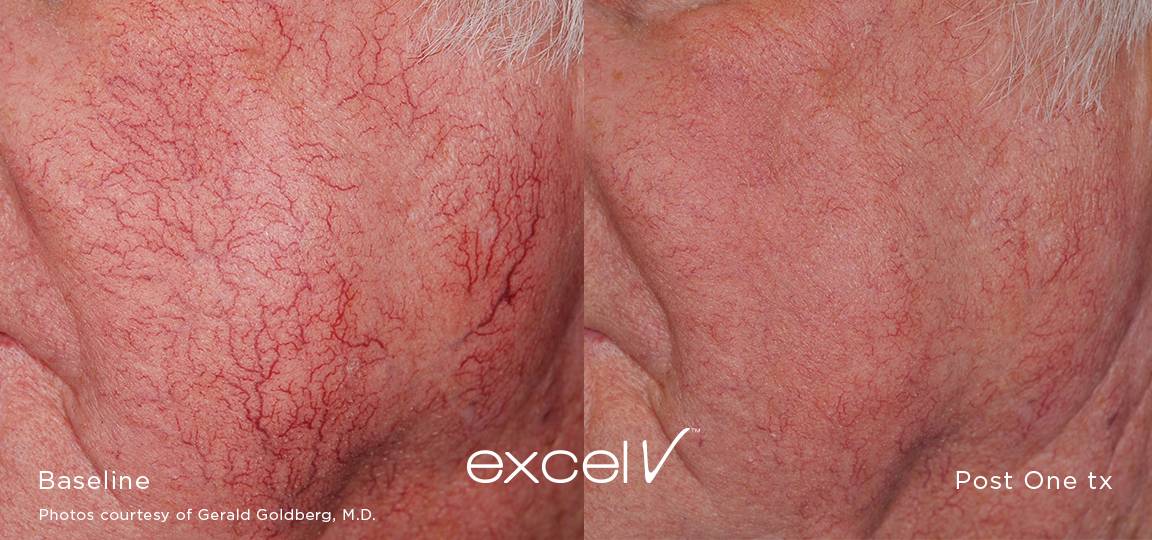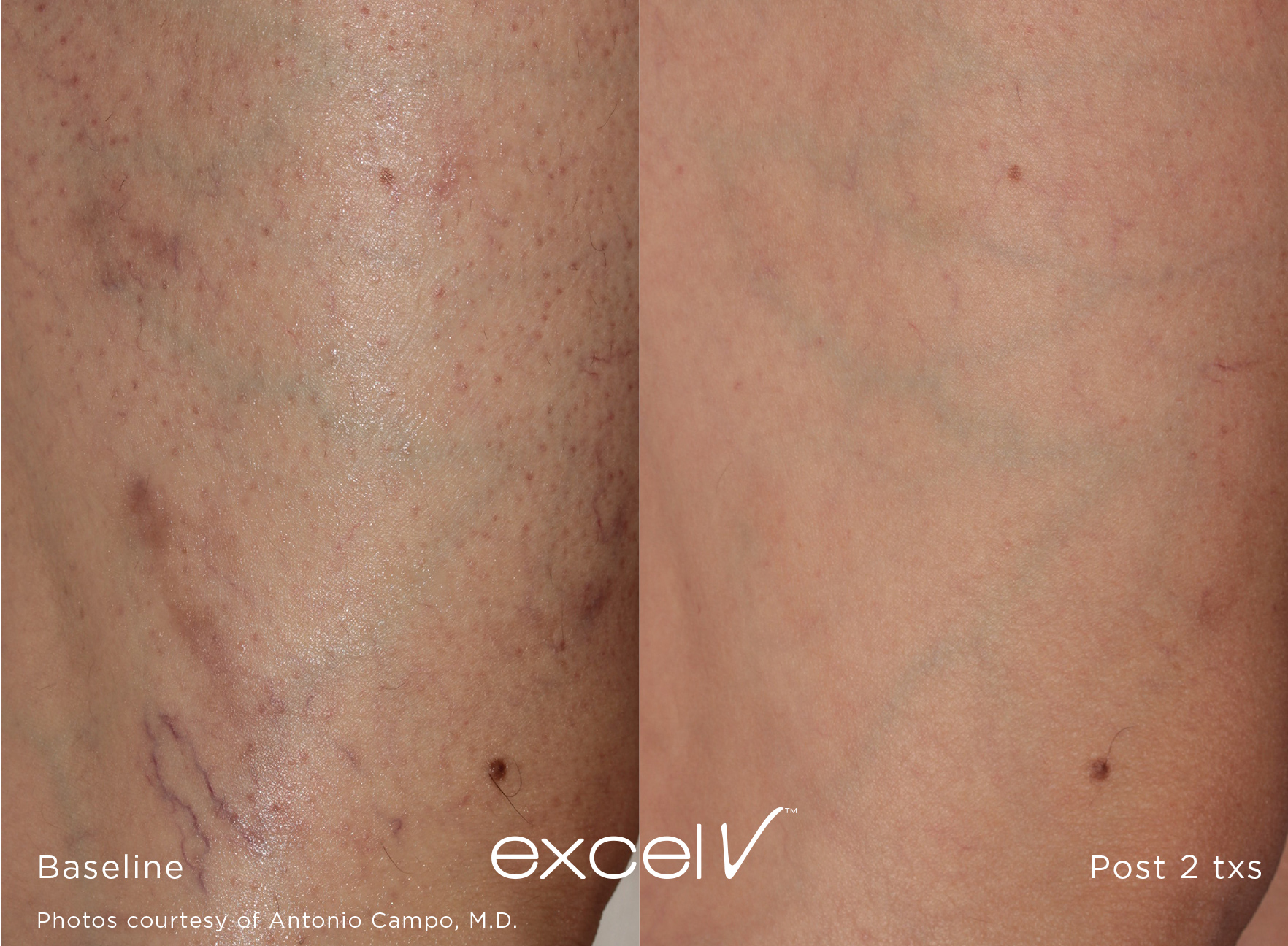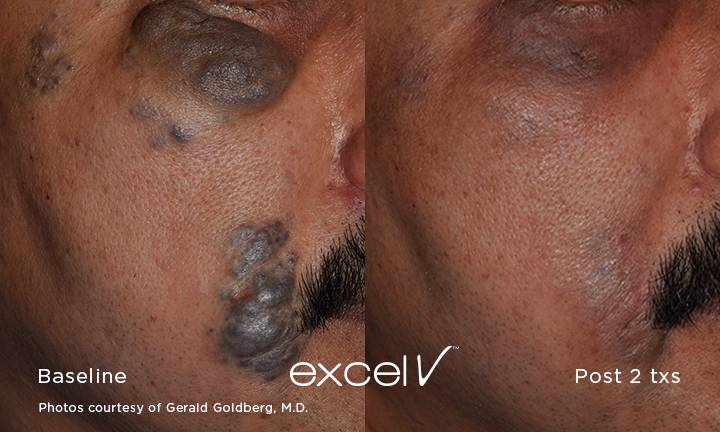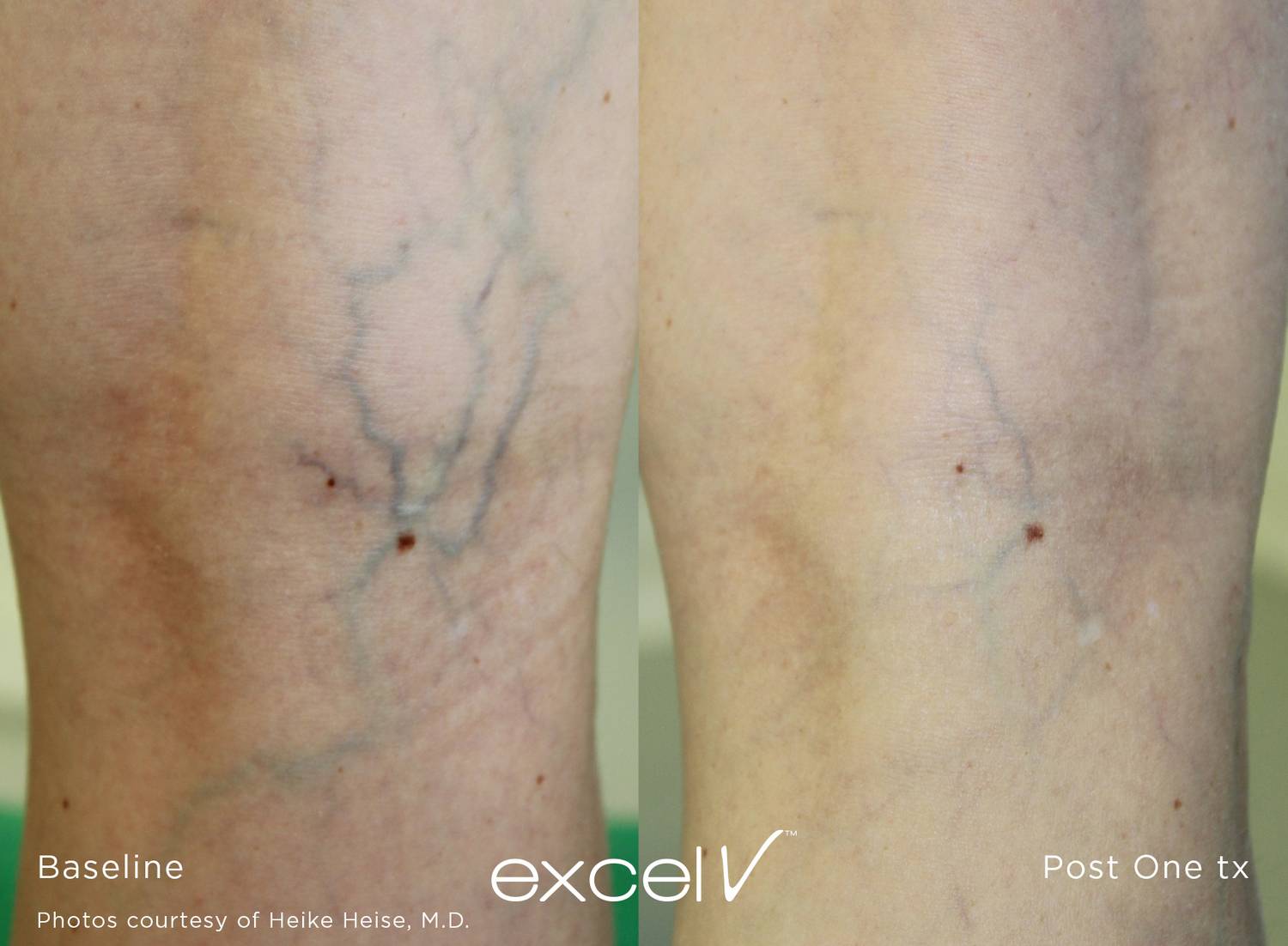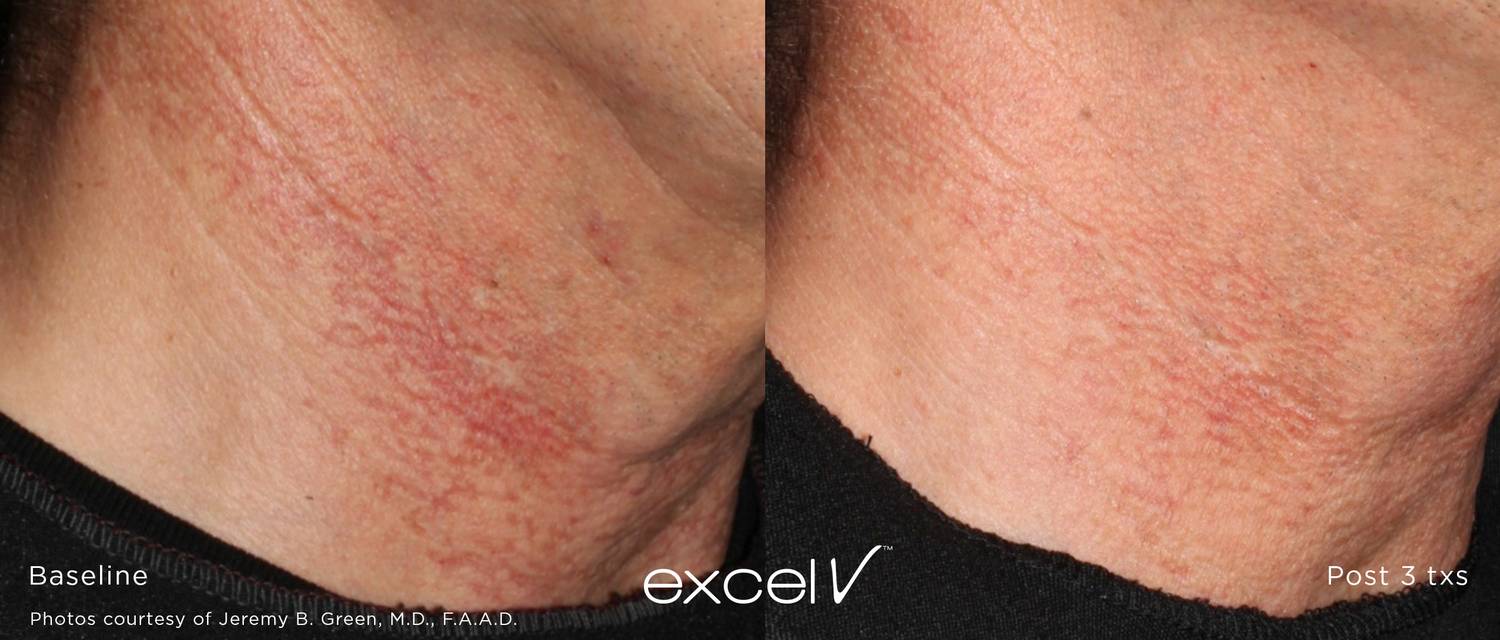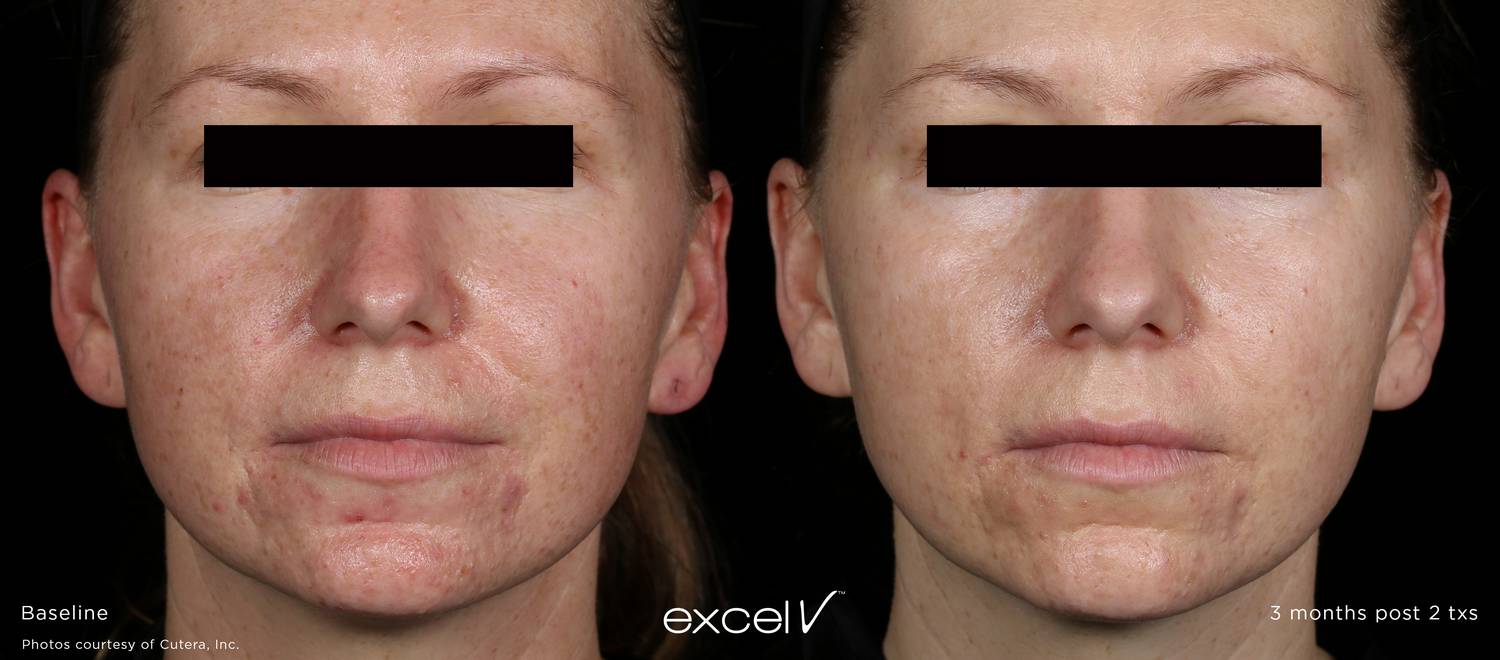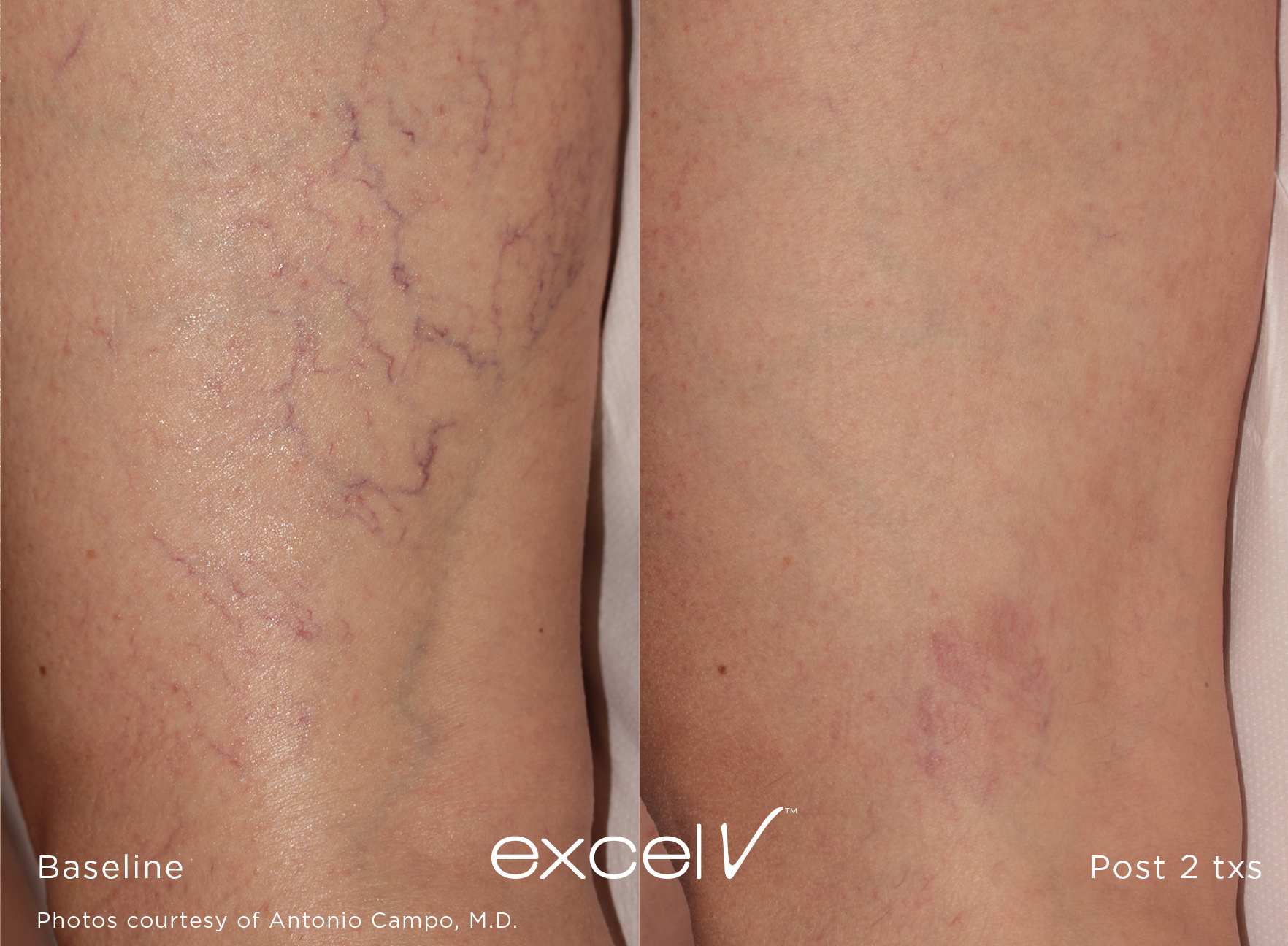 Benefits
The Excel V is a versatile laser that can be adjusted to treat such a wide variety of skin conditions. Because the laser can be customized to the patient's needs, it's able to offer exclusive benefits:
Renewed Collagen Production
As we age, the amount of collagen present in our skin gradually decreases over time, eventually leading our skin to wrinkle and sag in our later years. By the time we are 50, we will have lost 40% of our natural collagen, and 60% by the age of 65.[2] 
The lower wavelength setting on the Excel V Laser penetrates the superficial layer of the skin, reaching the connective tissue that forms the support system for our skin. The thermal effect of the laser energy tightens existing collagen, as well as triggering the production of additional collagen. With this renewed supply of collagen, skin is firmer, thicker, and smoother for an overall more youthful appearance.
Safe For All Skin Types
In the past, other laser treatments have been unsuitable for darker skin tones. Because of the higher density of melanin found in darker complexions, previous laser technology was unable to target only the unwanted blemishes and ended up damaging healthy cells.[3] However, with the Excel V Laser's improved technology, this treatment has proven to be beneficial and effective for all skin types.
Quick Treatments & Recovery
Depending on the surface area of the targeted regions, each Excel V Laser treatment session takes around 15-20 minutes. Many of our patients report that the sensation is similar to a rubber band gently hitting their skin.
Some of the skin conditions the Excel V can treat include: 
Benign Pigmented Lesions
Fine Lines & Wrinkles
Rosacea
Redness
Port Wine Stains
Warts
Skin Tags
Sebaceous Hyperplasia
Venous Lake
Angiomas
Scar Reduction
Facial & Leg Veins
Melasma
Age and sun spots
Pigmentation
Inflammatory acne and acne scars

Candidates
If you experience any of the aforementioned skin conditions, then you may qualify for Excel V Laser treatments. Not sure if you qualify? Don't hesitate to schedule a personal consultation with Dr. Zarrabi and Sherry Sanvictores at our Santa Monica offices.
Personal Consultation
During your personal consultation, we will start by reviewing your medical history and examining your skin. It is important for us to know whether you have tried laser skin treatments previously, and if so, how your skin reacted. Then, you'll have the opportunity to discuss your skin concerns, and the results you'd like to see. Depending on the spots or conditions you would like to address, we will be able to determine if Excel V will be a successful treatment for you. If so, we will be able to explain the process, and estimate how many laser sessions will be necessary to achieve optimal results. Once your first laser session is scheduled, we will give you a list of guidelines to help you prepare for your treatment, and ensure the best results.
Preparation
Before your Excel V Laser treatment it is important to:
Arrive with clean skin and without makeup
If you have a history of herpes or cold sores in the target areas, you may need to complete a cycle of an antiviral prescription before your treatment.
Avoid waxing or other skin-irritating treatments for 1-2 weeks before your treatment.
Avoid exposure to UV rays, whether via sun exposure or tanning beds. Please discontinue self-tanning products for a month before your treatment.
Procedure
The Excel V Laser treatment is a relatively simple and straightforward procedure that can have you in and out of our office on your lunch break. You'll be lying down and comfortable for this short procedure. You'll also be given a pair of protective goggles to shield your eyes from the laser. Next, we will adjust the Excel V device for your target areas, and to suit your skin's unique condition. The device has a cooling system that continuously cools the area before, during, and after each laser pulse to keep you comfortable throughout the procedure. The settings will be adjusted when a different condition or area is addressed. After we are finished, you will be all set to return to your day.
Recovery & Results
After your procedure, you will notice the skin in the hyperpigmented areas eventually flake off, and the mark lightens in color. Over time, and after a few more sessions, you will see the condition fade completely. After your procedure, it is common to notice redness and swelling in the treated areas. Don't worry; this should subside in the next 24 hours. To see optimal results, we usually recommend patients have around 3-4 sessions in total. During your recovery it is important to keep your skin in good health; be sure to stay well hydrated, avoid long exposure to the sun, and follow the instructions given to you after your sessions.
Corresponding & Complementary Procedures
Many clients who experience Excel V Laser Treatment love the relative ease and effectiveness this non-surgical procedure brings. Other non-surgical procedures include:
CoolSculpting
CoolSculpting is a non-invasive body contouring procedure that diminishes unwanted fat deposits around the body by freezing the fat cells to sub-zero temperatures. In one study, patients saw a 40% reduction in the size of their fat deposits. The beauty of CoolSculpting is that only the fatty tissue is altered through the process; the other surrounding tissue is left unaffected by the device's freezing temperatures. The procedure is perfect at diminishing fat around the face, neck, legs, abdomen, arms, love flanks, buttocks, and thighs. 
Microneedling
Microneedling helps to trigger collagen receptors to restore the skin's youthful, unblemished appearance. It is a great approach to lessen the appearance of fine lines, wrinkles, and scars as well as evening out skin tone. The process works by making microscopic holes in the skin. The body interprets these as wounds in the epidermis and sends collagen and elastin to heal the area. The newly produced collagen and elastin go to work fixing the area's laxity and wrinkles. Microneedling treatments are perfect for people who experience:
Mild scarring
Acne scars
Wrinkles
Enlarged pores
Sun damage
Melasma
Uneven skin texture
Cost
The cost of your Excel V Laser Treatment will vary depending on how many conditions are treated during your session, how large of a surface area the target region is, and how many sessions are required for you to see your desired results. If you would like to learn more about our financing feel free to visit our financing page or give us a call at (310) 584-9990.
FAQ
What Are The Side Effects?
While that depends on the conditions treated and the settings used, you can expect slight redness, swelling, or sensitivity after your treatment, however, these should subside in the next few hours.
How Many Sessions Will I Need?
While you can see dramatic results after just one treatment, to see optimal results we recommend patients undergo a series of treatments over a period of months. 
References
Cutera. excel® V+ | CUTERA. cutera.com. Published 2020. Accessed March 8, 2021. https://cutera.com/excelVplus
Reilly, D. M., & Lozano, J. (2021). Skin collagen through the lifestages: importance for skin health and beauty. Plastic and Aesthetic Research, 2021. https://doi.org/10.20517/2347-9264.2020.153
Das A, Sarda A, De A. Cooling Devices in Laser therapy. Journal of Cutaneous and Aesthetic Surgery. 2016;9(4):215-219. doi:10.4103/0974-2077.197028