Facial Implants
Conveniently located to serve the areas of Santa Monica, Beverly Hills and Greater Los Angeles
A sculpted, contoured and youthful-looking face has long been considered the 'ideal' beauty standard and having a well-defined jawline, sculpted cheekbones, and balanced facial features are some essential elements of an attractive appearance. Facial implants are a set of surgical procedures that can define and sculpt the face to correct any imbalances and create a more balanced, attractive look. Facial implants include chin implants and cheek implants and are typically performed as part of a facelift or facial rejuvenation procedure.
Dr. Zarrabi has several years of experience in performing facial implant surgery and has created a more youthful and attractive look for dozens of patients. The surgery is typically performed under local or general anesthesia and helps to correct asymmetries of the face while sculpting and defining the facial contours.
Before and After Photos
Key Benefits of Facial Implants
Facial implants can be inserted to improve the contours of the face and create more definition along the jawline and upper cheek area. Key benefits of facial implants include:
Sculpted and toned look
More youthful appearance
Reduced appearance of fine lines and wrinkles
Improved profile
Increased facial balance
How Facial Implant Surgery is Performed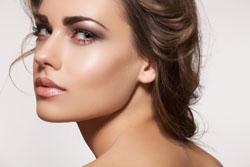 Facial implant surgery is designed to restore the facial tissues by inserting implants into the skin through a small incision. Chin implants require inserting implants through the mouth near the lower lip, or directly under the chin area. After the implant is inserted, bandages and tape are applied to the chin to hold the implant in place and promote healing.
Cheek implant surgery involves inserting the implant through incisions made near the lower eyelid or upper lip area. These facial compartments offer the most natural positioning for the implants. The implant is inserted into a small 'pocket' to create a natural look. After the cheek implants are inserted, the face may be wrapped and bandaged to promote faster healing.
Facial implants are typically part of a complete facelift or other surgical procedure, but can also be performed independently to enhance or sculpt key facial compartments.
Dr. Zarrabi has several years of training and experience in the field of plastic and cosmetic surgery and offers facial implants along with other facial rejuvenation procedures at his exclusive plastic surgery center in Santa Monica. Set up a consultation with Dr. Zarrabi to learn more about the benefits of facial implant surgery and decide if this procedure is the right match for your needs.